About BCI+network, Hospitality and Event Venue Management Consulting Firm
BCI+network is a Seattle based management and consulting firm that specializes in consultation to the hospitality, event venue industry. The Principals of the BCI+network consulting practice have over 60 combined years of experience in the development, operation and management of Convention Centers, Conference Centers, Arenas, Stadiums and Theatres as well as other unique event venues throughout North America, Asia and in Europe.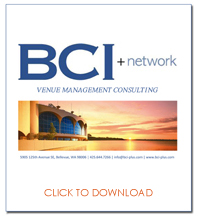 BCI+network (BCI) was launched in 1997, by John Christison and Warren Buckley as Buckley-Christison International. As the company evolved, BCI recognized that much of its work was with other consultants serving the hospitality and events management industry. In 2013 Buckley-Christison International became BCI+network to more accurately describe how the firm works and to recognize the importance and the expertise of those highly professional and skilled individuals and firms that make up the BCI network.
Providing the right problem solver, in the most expedient manner, at the most economical cost is the basis of BCI+network consulting practice. BCI+network provide our clients with expertise and practical knowledge gained from years of actual operations and management. The firm and its industry partner network also provide in-depth experience gained through their involvement in hundreds consulting assignments for the hospitality and events management industries.
BCI+network provide consulting and management services tailored to the needs of our clients. The BCI+network approach minimizes cost to the client, speeds the process of finding the right solutions and matches the problem or challenge with the skills of highly experienced consultant/practitioners.